USNG Emergency Location Markers – Shared Funding Project
Quick Facts
Purpose: To support deployment and expansion of the USNG Markers national testing plan.
Project Goal: $10,000. Together we can make this happen.
Funder: SharedGeo and YOU!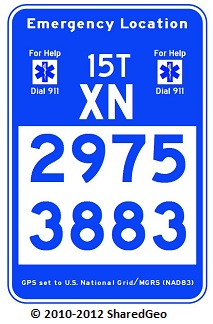 Since 2009, SharedGeo has been involved in research to determine the optimum way to create a marker for hiking and outdoor recreation trails, house fire numbers, and other rural scenarios where there is a need to denote a location for an emergency response.  This effort has been in response to two significant problems that plague virtually all existing approaches:
1.) Current markers of this type are jurisdicitonally unique and consequently do not facilitate understanding or coordination if response resources must  be brought in from outside a region for an event like a wildfire, and
2.) Current marker systems do not work with GPS.
Through SharedGeo's efforts, it has been determined that both these problems can be solved by using a sign design that leverages the U.S. National Grid (USNG) – the U.S. portion of the worldwide Military Grid Reference System (MGRS) – while conforming to various national and international display standards.  The result of this marker design effort is shown to the left and above.  Because this sign style provides for the report of an emergency location based on a GPS coordinate system (USNG), response efforts are significantly enhanced.
Work on this project originally commenced as a collaborative effort between the MnGeo Emergency Preparedness Committee and SharedGeo.  A Local Operational Research Program (OPERA) grant to the City of St. Paul helped fund initial marker field trials.
All funds donated to continue development and expansion of this project will be used to support build out of the current national test area in the Arrowhead Region of Minnesota, followed by additional trails in Minnesota, and then the greater United States. Donations are tax deductible to the full extent allowed by law.
Educational and technical support items for this project such as brochures, an informational website, and specification documents are in final draft and will be released by mid-2013.