Emergency Location Markers – Shared Funding Project
Quick Facts
Purpose: To support deployment and expansion of the Emergency Location Marker national implementation effort.
Project Goal: $10,000. Together we can make this happen.
Funder: SharedGeo and YOU!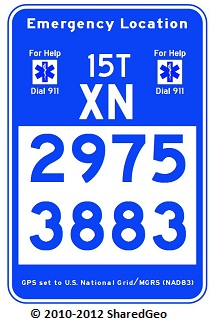 Since 2010, SharedGeo has been involved in research to determine the optimum way to create a marker for outdoor recreation trails and other rural scenarios where there is a need to denote a location for an emergency response.  This effort has been in response to two significant problems that plague virtually all existing approaches:
1.) Current markers of this type are jurisdicitonally unique and consequently do not facilitate understanding or coordination if response resources must  be brought in from outside a region for an event like a wildfire, and
2.) Current marker systems do not work with GPS.
Through SharedGeo's efforts, it has been determined that both these problems can be solved by using a sign design that conforms to various national and international design standards while leveraging the U.S. National Grid (USNG) – the U.S. portion of the worldwide Military Grid Reference System (MGRS). The result of this effort is shown to the left and above.  Because this sign style provides for the report of an emergency location based on a GPS coordinate system (USNG), response efforts are significantly improved.
Work on this project originally commenced as a collaborative effort between the MnGeo Emergency Preparedness Committee and SharedGeo.  A Local Operational Research Program (OPERA) grant from the Center for Transportation Studies, University of Minnesota to the City of St. Paul helped fund initial marker field trials.
Signs, along with training for call centers, responders, and the public, are already in place in several areas of Minnesota including the Arrowhead region, and installation is expanding in parks in Dakota County and in St. Paul.
Educational and technical support items for this project such as brochures, are available at usngcenter.org. Signs are available for purchase at usngstore.com.
All funds donated will be used to continue development and expansion of this project and support educational efforts to expand use throughout the U.S. Donations are tax deductible to the full extent allowed by law.  Please click the giveMN logo below to contribute.